If you have an active SketchUp Subscription with Professional CAD Systems then you are entitled to free support from one of our SketchUp Gurus – just install TeamViewer then click request support below.
Local NZ SketchUp Support
SketchUp + Trimble Account FAQs
How to download & install SketchUp
Installation instructions for Windows:
Download SketchUp 2022 for Windows HERE
Open the downloaded Installer file as an Administrator. You may need to see a security prompt and will need to give SketchUp permission to make changes (install) on the computer. This step may take a while, so be patient if it seems like nothing is happening.
When the installation window opens, you'll have the option to change the application language and choose a different installation directory. Click Install, and the Installer will show a progress bar.
Once you see the "SketchUp 2022 is Ready to Go!" message you can click on the SketchUp icon in the window to launch SketchUp right away, alternatively you can click Finish to close out the installer.
Installation instructions for Mac:
Download SketchUp 2022 for Mac HERE
Make sure you're logged into your computer as a user who has Administrative privileges.
Close any existing application versions of SketchUp, Layout, and StyleBuilder.
Locate and double-click on the Installer file (DMG file, probably in your Downloads folder). This will mount the installer drive and open a window with a SketchUp icon on it.
You'll see a progress bar as the files are copied, once this is complete you'll have a new SketchUp folder under Applications.
To launch SketchUp you'll navigate to the SketchUp folder and Double Click the SketchUp icon.
The first time you launch the software, you may be prompted with security message, if so, click Open.
You should now close the Installer window and delete the Disk Image drive icon from your desktop by dragging it to the Trash Can. Note that this icon is not the SketchUp application.
How to access your SketchUp Subscription
After ordering SketchUp you will receive an email from Trimble within one business day with a link to access your subscription. After clicking the link you will be able to sign into SketchUp. If you do NOT already have a Trimble ID associated with your email address, a Trimble ID is automatically created for you. When this happens, you will receive an email similar to this:
You MUST activate your Trimble ID and create a password within 72 hours by clicking on "Activate account".
If you miss your 72-hour activation window, please sign in HERE again. Trimble will send you a new email to activate your account. After clicking the "Activate account" button and creating a password you will be able to sign into SketchUp:
How to Download, Install & Access SketchUp
Click Here to download SketchUp from your account area. Install and sign into SketchUp (Instructions HERE)
If your account is still saying that you only have a 30-Day Trial please try Signing Out and Signing In again.
If you are still having issues logging into SketchUp/Trimble or accessing your subscription CLICK HERE
How to access SketchUp for Web, SketchUp for iPad,Trimble Connect, Viewers for Mobile/AR/VR + Scan Essentials & V-Ray
SketchUp Go, Pro, Studio + Educational Subscriptions have access to SketchUp for Web, Sketchup for iPad, Trimble Connect, & more.. SketchUp Studio commercial subscribers also have access to Scan Essentials & V-Ray. Here is how you can access these extra features:
Please Login Here to enter your Trimble Account area.
Click on the user icon in the top right, then select "My Trimble Subscriptions"
Select the "My Products" page.
Click "View Included Applications" under your SketchUp Subscription Plan. Download or launch the extra feature you want to use.
To download SketchUp for iPad, you'll need to go directly to the Apple App Store. You can access this link from your Trimble Account (as seen above), but it's easiest to launch the app from your iPad. Navigate to the Apple App Store from your iPad, search for 'SketchUp,' and install it from the App Listing Page.
Note: You will be prompted to sign in with your Trimble ID when installing the app. Ensure that you login using the email associated with your subscription, or you might enroll in a 7-day trial by default.
CLICK HERE to sign into Trimble.
In the top right menu, click on "My Trimble Subscriptions" and select "Purchased from Professional CAD Systems".
Click on My Products. You should see a page like the following:

Please click on "View Included Applications", then under your SketchUp Pro/Studio Subscription click on "Manage Devices"

Click "Deauthorize All". You should now be able to sign into SketchUp again.
Transferring a SketchUp Subscription to a new computer
A sign-in subscription is associated with one person. That individual can install the license on up to 2 computers he or she is using, but only one computer can run SketchUp Pro at a particular time. To use your subscription on another computer, follow these steps:


Sign out of SketchUp on the computer you'll no longer be using by clicking on "Account" in the top right corner, then clicking on "Sign Out"
Install SketchUp on the new computer. Please visit the download page to get the latest version of the install file
Start SketchUp and sign in with the same email address on the new computer.
If you're no longer going to use SketchUp on the original computer, you should uninstall it.
If you need to run SketchUp on more than two computers at the same time, you may consider purchasing additional subscription plans.
Transferring a SketchUp Classic Single-User License to a new computer ​
To remove a single-user license from one of your computers, follow these steps:


Remove your license from the computer by navigating to Select Help > License inside SketchUp.
Click the Remove License link. A confirmation dialog box appears.
Click the Remove License button to confirm that you want to remove your license.
Now one of your two authorisations is available to use.
Upgrading/Renewing SketchUp Educational Licenses
SketchUp Student & Teacher Licenses last for one year. They must be renewed every year so that we can verify that users are still enrolled or employed at an approved NZ educational institution. If you need to renew your SketchUp Education License CLICK HERE
My Account is still showing that I only have a 30-Day Trial
Please try signing out and signing in again.
To do this on the SketchUp Welcome screen, click on your account picture in the top right then click on "Sign Out".
To do this in SketchUp navigate to "Help > Sign Out", then back to "Help > Sign In" to log back in.
I tried to reset the password for my Trimble ID but it doesn't recognise my email address
If you are seeing an error that says: "Sorry, we didn't recognise this user. Please enter a valid Email address." Make sure the spelling of the email address is correct and matches the one you used on your order. This means that you don't currently have a Trimble ID (this can happen even if it's the email you have used in the past for SketchUp.) Enter your email address on the sign in page, proceed and it will take you to a window you can use to create your Trimble ID manually.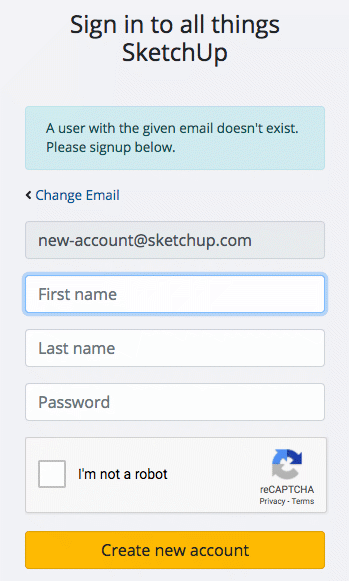 Please make sure your issue is not already answered in the Frequently Asked Questions above before submitting your support request!